Underwater Photography
GoneSnorkeling.com is pleased to provide articles on underwater photography. Whether amateur or professional, for fun or for profit, we want to help you find and capture the exquisite marine life just below the surface.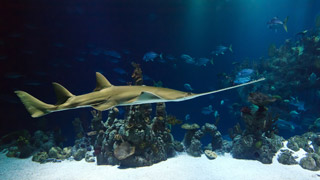 The lion's share of underwater photographs, from tropical fish to submarine landscapes, are taken by scuba divers. There is, however, a growing interest in submarine photography developing among snorkelers. Special photography equipment designed for shallow dives along with a knowledge of the world's best locations will put you in the running to create remarkable, award-winning shots.
Jacques Cousteau, the pioneer of underwater photography, inspired a generation of scuba divers in this art form. Much of what we learn about 'getting the great shot' comes from his research and volumes of data compiled by his followers. Our reporting, then, will often come from the diver's perspective but as we develop this information for you, our snorkeling community, we will point you to awesome experiences for great shallow-water exposures.
Underwater Photography
Shop Amazon for Snorkeling Gear.