Best Snorkeling in U.S.A.
The United States has close to 100,000 miles of shoreline that stretch from the New England states in the North East, along the coastline of the Atlantic Ocean, to the beautiful coral reefs around the tip of Florida, and along the warm Gulf Coast of Louisiana and Texas. Traverse across Mexico (and Baja California which is actually part of Mexico) and you'll find the warm sunny beaches of Southern California. Then, follow the Pacific Ocean shoreline up the rocky coast of Northern California, Oregon and Washington. From the West Coast, it's a five-hour flight to the Hawaiian Islands, with tropical fish, sea turtles, and manta rays.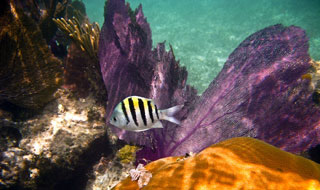 Along the U.S.A. you will find a plethora of reefs, rocks, sea caves, islands, and jetties where aquatic life feed and live. Blue Whales, Gray Whales and Orca's (Killer Whales) migrate from feeding grounds in Alaska to calving lagoons in Mexico and back again, while Humpback's take a similar trek along the Atlantic Ocean. Dolphins, sea lions, seals, and colorful fish abound, making the United States one of the best places to snorkel.
Waters are colder up north and require wetsuits for year round snorkeling, while southern destinations are warm enough for a swimsuit on hot summer days. The U.S.A. has a lifetime of underwater exploration destinations and resorts available to satisfy your thirst for adventure. Snorkeling, kayaking, surfing, paddle boarding and SUP, boating, and fishing are year-round activities in many locations. Enjoy!