Florida is home to the third largest reef system in the world. It runs 192 miles from Virginia Key in Biscayne Bay all the way to the uninhabited Dry Tortugas in the Gulf of Mexico. Did I say tortugas? You won't want to miss the turtles, jelly fish, anemones, worms, crabs, rays, and colorful fish that populate this unique spot on the planet.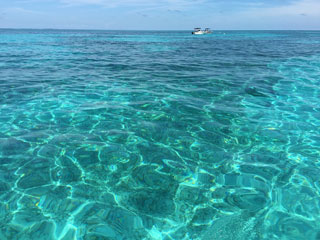 The keys (or cays) were formed by ocean currents transporting loose sediment across the surface of reefs, then roads and bridges were built. You'll find one of the best snorkeling and marine adventures in Florida surrounding the Finger Reefs of Looe Key. As you follow the reef system from channel to channel you'll see changes in the marine life. The barrel sponges and enormous sea fans live in the deeper water and as you move to shallower depths, you'll see brain corals and elkhorn coral. Check the weather conditions and go when the waters are calm for the best snorkeling experience possible.
Looe Key offers some very good snorkeling near the shore but, as with the rest of the keys, the best snorkeling will be found a few miles off shore. You'll need a boat to get there. Grove Reef, off Big Pine Key, can only be visited through specially arranged charter boats. You can call ahead for information and reservations by contacting the Florida Keys National Marine Sanctuary.
Boating in the Florida Keys is a charmed experience. It's so much fun renting your own boat, looking for spots to explore, diving into the buoyant waters and observing the tropical fish, coral and even an occasional shipwreck. The Adolphus Busch, a 210 ft. ship that sank in 1998 is located in the Looe Key Reef. It rests in just 110 feet of crystal clear water, making it a fun discovery for snorkelers and divers alike.