Florida has a lot of islands, but none so exotic and inviting as Little Palm Island. This 5-acre paradise, on the southern part of Little Torch Key, is home to one of the world's most unusual resorts. Your experience will include everything you'd expect to find at a five-star resort and much, much more.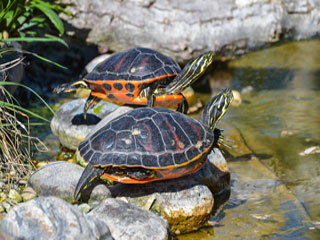 After arriving by boat or seaplane, you'll walk along crushed seashell pathways through the incredibly lush gardens to discover thatched-roof bungalows, each barely visible from the other. Personal attention begins the moment you arrive with amenities you've ordered before you get there. What will make you happiest upon arriving? Russian caviar and champagne? Cold beer, chips and salsa? You decide, and this unusual resort will have it waiting for you.
Opulent may be the best word to describe your experience here. This secluded island resort provides spa treatments that were once reserved for Indonesian princesses. If you prefer, you can receive massage treatments in the privacy of your room or go to the Spa Suite, Rainforest Pavilion, or Palapa Point. The exquisite massage menu includes a Balinese massage known to relieve tension and promote total relaxation through acupressure, rolling motions and rhythmic strokes. Little Palm Island Resort & Spa - A Noble House Resort is one of these all-exclusive resorts, as far away from nowhere as you can get.
Would you like some noontime crab cakes delivered to your deck chair? Your personal waiter will attend to every need in the plantation-style dining room and your senses will be delighted with the fragrant aromas coming from the kitchen. Asian and European flavors come together to create memorable meals and dining experiences you won't soon forget.
Televisions, telephones, and alarm clocks will not be found here. Data ports are available in the room, but hopefully you can leave your work at home and enjoy the diversions of one of the world's most unusual resorts. Meditate in the Zen garden, play chess with the life-sized chess set, or spend some time exploring the 600 volume Great Room Library. maybe it's time to read a book about something new; something totally unrelated to your current life and work.
And if you, like us, are adventure travel fans, you'll enjoy some of the best snorkeling and scuba diving on the planet. You can also rent equipment for kayaking, windsurfing, and day sailing. Deep sea fishing being such a big part of life in the Florida Keys, this secluded island resort makes provision for that with a variety of options and opportunities for you to explore.
Life's too short to stay at home! Be sure to put this unusual resort on your 'top places to snorkel' list and then make your plans to get there! You can read more about them here...