Snorkeling the clear waters surrounding Peanut Island is a must! For underwater activity, visit the colorful reefs and keep an eye out for the abundant marine life of sea turtles, exotic fish, and starfish. If you're lucky, you'll encounter a manatee or two, during the summer months. Or, visit in winter when they frequent the snorkeling lagoon.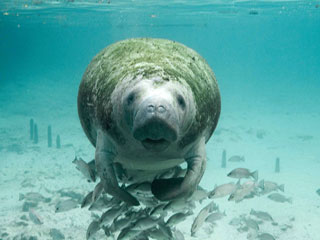 This island is situated in the Southern half of tropical Florida. The island is actually inside the Lake Worth Lagoon, which is protected from the ocean current, giving you miles of easy snorkeling. It was created in 1918 with the dirt removed by the creation of the inlet to the Atlantic Ocean. You can reach this island via a short ride on a private boat, or by water taxi for a fee. Day use boat docks, swimming, picnic areas, observation deck, the Palm Beach Maritime Museum, a fishing pier, a walking tour, and of course, the adventures of the snorkeling lagoon await you.
Beach Camping or Hotel?
Looking for a tropically landscaped oasis to pitch your tent? You'll find this on the island at the Peanut Island Campground. Accommodations include a reserved tent camping area, as well as, beach front camping open during low tide levels. For tent and RV camping off the island, the 48-acre John Prince Park Campground adjacent to a 726-acre park, is located a few miles south off Interstate 95. Prefer a luxury hotel room? There are many a short boat ride way at the Courtyard by Marriott, Hilton, DoubleTree, Ramada, etc. Prices range from $150 per night hotel rooms and resorts to $700 per night condos.
Quiet Time
Relax in the evening with a stroll along the paver pathways which wind around this picturesque island. Kegs and loud music are not permitted anywhere on the island, so if you're looking for peace and quiet, this is the place to be! And, while dogs are welcome in designated areas, they won't be following you down to the beach.
For more information and to plan your vacation, visit the Palm Beach County website here...