The top-ten lists of snorkeling destinations all have one thing in common, they include the remarkable and amazing Molokini Crater. Many people say it is the number one site in the United States; others say it's the most exotic spot for snorkeling and diving the world around. The water clarity is incredible; you can often see up to 150 feet, but even on a 'bad' day, you'll see clearly 100 feet in every direction.
Thirty percent of the marine life surrounding the Hawaiian islands is endemic to the area; you'll see many things in this underwater landscape that you won't find elsewhere: abundant sea turtles, sharks, and huge numbers of fish. Currently, the marine habitat of Molokini is a protected reserve that is flourishing.
What and Where is Molokini?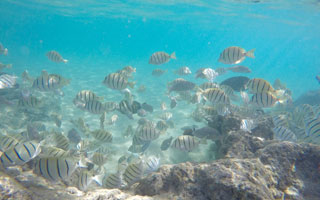 Three miles off the southwestern shores of Maui, lay a crescent-shaped islet that is actually the southern rim of an extinct volcano. Technically, Molokini is a caldera, a crater-like basin formed by an explosion or collapse of a volcanic cone. Over the years, the crater has eroded and become a unique habitat with a submerged floor creating a shallow inner cove, a coral garden teaming with color and marine life.
The cone-shaped formation of Molokini has created a tall vertical wall along the outside of the crater. There used to be an abundance of black coral in the deeper waters, but unfortunately much of it was harvested before protective laws were put in place.
You won't find sandy beaches on Molokini. The 77 acres extending above the water's surface create an uninhabited preserve. People are not allowed on this protected seabird sanctuary. To get to Molokini, you need a boat and there are many options for cruises and day trips leaving from Kihei, Lahaina, and Ma'alaea Harbor.
A big focus at GoneSnorkeling.com is conservation. We encourage respectful marine exploration and will always share helpful information as it turns up in our research. We found a great partner in this effort at the Travel Show and are currently building a relationship with the Rainforest Alliance whose mission, in a nutshell, is to protect ecosystems, people and wildlife by transforming many of our business and recreational behaviors. Their knowledge and insight base will enrich our articles and recommendations.
We will explore swimming with dolphins on this site. Though they didn't bring dolphins to the Travel Show, Dolphin Quest was there and after some conversation, invited me to come swim with the dolphins myself so I can bring you an eyewitness report.
We are building a community here. As you're reading, if you're bubbling up with your own great stories, insights, secrets and adventures, please ontact us and get in our expanding rolodex! As we dive deep into specific areas of the globe, it will be great fun sharing the accounts we are collecting. Be part of what we are doing. And please, if you visit a destination based on something you read here, write home to let us know about it. Send your underwater pictures too!
Speaking of photography, the Travel Show was full of snorkelers and underwater photographers who will be happy to share their favorite pics with us. One fellow in particular, a professional photographer who just finished his book on digital photography, will send photos to this site.