If you are looking for a quick and easy getaway, jump onboard a Catalina Cruise and head to Catalina Island for a few days of fun. This beautiful island offers a wide variety of things to do from fishing and hiking to diving, boating and just relaxing by the sea. Naturally our favorites are the exceptional snorkeling adventures with easy access from the shore. They are wild with color and marine life. Santa Catalina Island is surrounded by crystal clear waters, making it a perfect place for underwater adventure.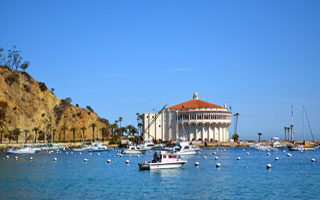 You can bring your own equipment or rent masks, snorkels and fins from the island dive shops. If you're headed to Avalon, two great spots for your snorkeling adventures are Lover's Cove and Casino Dive Park. You'll find a host of Catalina fun at the Casino but nothing beats the kelp forests and bright orange Garibaldis waiting for you in the water. You'll also find four ships that were sunk on purpose in that area to create marine habitats.
Lover's cove, southeast of the harbor, is the other easy access snorkeling adventure near Avalon. I got lost in space snorkeling here. It's all about the mask. I had never had one that fit properly before the day I snorkeled with a friend in this cove. Two hours went by in a flash as we swam with the fish and explored the underwater rocks and kelp. It was phenomenal. That was the day I decided to snorkel all the beaches of the world.
Resorts, Spas, and Camping
The town of Avalon on Catalina Island has a population of under 4000 people and a couple dozen hotels. Hotel Atwater, Catalina Canyon Resort and Spa, and The Pavilion Hotel are some of the nices resorts on the island. Catalina Island has several campsites on the East side of the island and one on the West side. Check here for google map...