Snorkel, swim, kayak, or scuba dive. How you get here doesn't matter -- just get here! Harboring four marine environments including sandy beach, rocky coast, kelp forest, and open ocean, the Cove and Sea Caves of La Jolla, near San Diego, California, are home to dozens of species of marine animals. Pelicans and cormorants frolick, while people play in the shallow waters along the beach.
The La Jolla Caves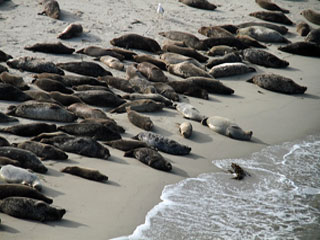 There are seven caves for you to explore, where you might see marine life, such as, bright orange Garibaldi fish, kelp, sea grass, sea lions, seals, and harmless leopard sharks. Check with the lifeguards on duty in the cove regarding current water conditions. They don't watch the caves, so, be sure to snorkel with a buddy. The water is warmest during the summer months, however, early morning fog is common and it sometimes makes an appearance at mid-day.
Resorts, Spas, and Camping
Favorite hotels near the cove in La Jolla, CA include La Valencia Hotel, Grande Colonial Hotel, and Hotel La Jolla. The La Jolla Band of Luiseño Indians run the La Jolla Indian Campground along the San Luis Rey River. Campsites include a picnic table, fire pit, and large shade trees. Vehicles, motorcycles, bicycles, backpackers, trailers, and RVs are welcome.