California snorkeling is a great adventure for water lovers and ocean explorers. Grab a good mask, a snorkel and some fins and you're set for your journey into the sea. The beaches near Santa Barbara offer exquisite spots to see kelp forests and sea lemons, one of Southern California's most commonly seen nudibrachs.
Refugio State Beach and Tajiguas are adjacent sites about 20 miles north of Santa Barbara. You'll find them off of highway 101 as you follow the coastline west out of Santa Barbara toward San Luis Obispo. Tajiguas is an undeveloped beach with free parking and great photo opportunities in the water. You won't find as many fish in the inshore reefs as you will at Refugio, but the anemones and nubibrachs cover the rocks and will delight your eyes.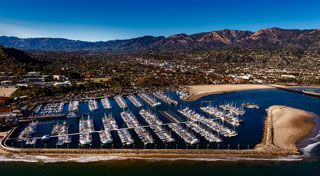 Refugio can be a better bet because you'll find a lot more fish. The beach is 1.5 miles of beautiful sand and surf. This is a great California snorkeling site. The calico bass, opaleye or sheephead are prolific but can easily be spooked by lots of bubbles so you may choose to do some freediving to really get in and amongst the fish.
At each end of the cove at Refugio beach there are reefs you can easily reach by swimming. Snorkeling at these locations is great fun. The sporadic low-lying reefs to the east are only about 50 yards out. This is a great halibut hunting ground and if you're looking for sea hares, anemones, sea stars and sponges you'll also find them there.
The western reef is a bit further out and more remote but still easy to access if you're snorkeling. These kelp forests are a great spot for sightseers and photographers looking for rockfish, sheephead and cabezon. This is a spot the divers are not likely to visit often, leaving the marine life virtually undisturbed.
Unlike Tajiquas, Refugio is a developed site with showers and restrooms, campsites and beautiful hiking and biking trails. And if your traveling buddy is more of a fisherman than an avid snorkeler, this spot will make everybody happy!
Resorts, Spas, and Camping
Santa Barbara is another expensive area of California. Resorts and spas run anywhere from $200 to $700 per night depending upon the amenities offered. Here are three of the hundreds of establishments from which to choose. You'll be happy with Four Seasons Resort The Biltmore Santa Barbara, Canary, a Kimpton Hotel, or The Fess Parker Santa Barbara - DoubleTree by Hilton Resort. If you want to be near the water, you can choose from Carpinteria State Beach or Santa Barbara Sunrise RV Park. Go inland and you'll find many campsites in the Los Padres National Forest. Check the google map here...