Some of the best snorkeling in the world awaits you at the Channel Islands National Marine Park. This marine wonderland encompasses the five northern islands of the 160 mile archipelago off California's coast. The kelp forests, sea caves, and beautiful coves of this underwater park offer great exploring opportunities to swimmers, snorkelers, and divers alike.
The best islands for snorkeling are Santa Barbara Island, Anacapa Island, and eastern Santa Cruz Islands; that's where you'll find the more desirable and interesting habitats including the rocky reefs and kelp forests. The shore access at Santa Cruz is mostly a sandy sea bed except for a very shallow 5-15 foot rocky habitat near the pier at Scorpion anchorage. If you enjoy the wonders of tide pool exploration, be sure to visit Frenchy's Cove at Anacapa Island.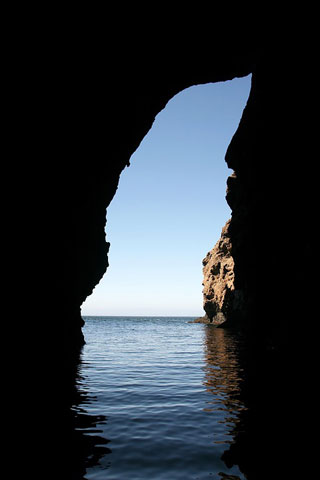 Shore access at Santa Rosa and San Miguel are also mostly sandy sea beds unless you go by kayak to other access sites. The extreme winds on Santa Rosa and San Miguel Islands are not so welcoming to novice explorers. Only well-trained, fully-conditioned and equipped travelers should attempt the adventurous snorkeling experiences in the waters surrounding them.
Preparation and self-reliance are essentials for your visit to the Channel Islands. With the absence of food stores and gear rental shops, there are no remedies for poor planning once you have arrived. Be sure to pack in what you will need for the day, including food and water, and then, in keeping with the heart of a true nature lover, pack out all your trash.
If you don't own a boat, by now you are probably wondering how you'll get to these enchanted islands. My first choice to to go by plane; to do so, contact Channel Islands Aviation from www.flycia.com. Traveling by boat, you may leave from Ventura or Santa Barbara. Contact Island Packers from www.islandpackers.com for departures from Ventura or Oxnard harbor and for departures from Santa Barbara, contact Truth Aquatics at Sea Landing from www.truthaquatics.com.
You will find a variety of half-day, full-day and multiple day trips available for some of the best snorkeling adventures ever.