Made up of volcanic rocks and marine sediments, Santa Barbara Island is the smallest of the eight Channel Islands. Seals, sea lions, and seabirds breed here in their natural habitat, with no hotels, restaurants, or other amenities, except for camping. And, during rainy years, there's an incredible display of wildflowers, including gumplant, buckwheat, poppies, verbena, and yellow coreopsis.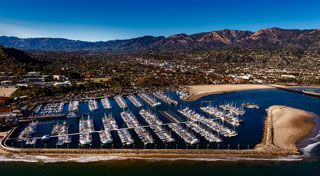 Transportation to the island is by boat, or by kayak if you're brave and in good health. Once at the island, marine adventures include snorkeling, kayaking, photography, and camping. Explore the sea caves and arches. Part of the Channel Islands National Marine Sanctuary, Santa Barbara Island is one of the eight Channel Islands archipelago and is protected by the Channel Islands National Park. Even for days trips, buy your ticket in advance and bring lunch and water.
Resorts, Spas, and Camping
There are no resorts or spas on Santa Barbara Island itself, however there are many in Ventura and Los Angeles County. Click this link and search for Ventura, Santa Barbara, Long Beach, or Newport Beach. There are ten primitive campsites with tables and pit toilets on Santa Barbara Island, and not much else. Bring your own food, water, tent, etc. Pack out everything!