The mild Mediterranean climate of Laguna Beach, with sunshine all year round, makes it a wonderful place to snorkel. The seven miles of coastline has 27 beaches and coves including the Crystal Cove State Marine Conservation Area, the Laguna Beach State Marine Reserve, and the Laguna Beach State Marine Conservation Area.
Snorkeling Locations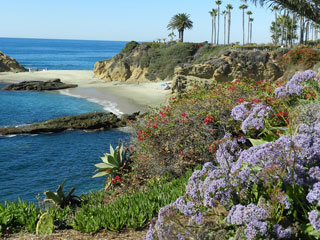 Cameo Cove, Emerald Bay, Crescent Bay, Shaws Cove, and Divers Cove offer excellent snorkeling opportunities. Some are in local neighborhoods, so plan on parking on the street and walking down to the beach with your gear. Once there, the giant kelp beds between Crescent Bay and Shaw's Cove are a must-see! And, be on the lookout for perch, eelgrass, sea urchines, garibaldi, rays, and leopard sharks. The tidepools on the North end of Crescent Bay provide underwater photography opportunities, so bring your camera.
Arts and Music
When you're ready to get out of the water, check out the street scene across from the main beach. The Laguna Art Museum, the Festival of Arts, the Sawdust Art Festival, the Laguna Playhouse, the surf culture, volleyball, lawn bowling, and the many restaurants are some of the attractions to this beautiful area of Southern California. The local artist community includes painters, photographers, musicians, filmmakers, and writers.
Resorts, Spas, and Camping
Resorts and spas in Laguna Beach range from $166 to $700 a night depending upon the amenities. Surf And Sand Resort, Inn at Laguna Beach, and The Ranch at Laguna Beach will take good care of you! Crystal Cove State Park is off the Pacific Coast Highway between Corona del Mar and Laguna Beach and has sites for tent camping, trailers and motorhomes. Or, stay in a historic beach cottage, which are available for overnight rentals through the Crystal Cove Alliance.