Stretching from Santa Cruz to the Monterey Peninsula, Monterey Bay, California is home to sea otters, harbor seals, bottlenose dolphins, fish, sharks, abalone, squid, birds, and sea turtles. It is also a breeding site for elephant seals and the submarine canyon creates a migratory path for Gray and Humpback Whales. You have many beaches from which to choose with varying degrees of difficulty, from sandy soil to rocky outcrops and tide pools. Kelp forests, some as tall as trees, grow underwater in the bay, providing nutrients and shelter for many of the marine animals.
Monterey Aquarium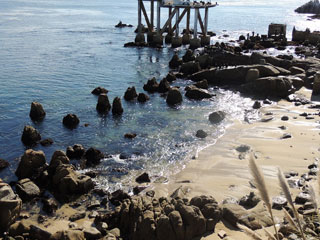 When you're out of the water, the Monterey Bay Aquarium is a must see, with webcams of baby birds hatching, sea otters frolicing, penguins waddling, sea turtles flying through the water, and the frenzy at feeding time. For the birders in your group, in addition to marine mammals, invertebrates and alga, Monterey Bay National Marine Sanctuary provides habitats for over 180 species of seabirds and shorebirds.
Resorts, Spas, and Camping
Some of the nicest accommodations in Monterey, CA include Monterey Plaza Hotel & Spa, Portola Hotel & Spa at Monterey Bay, and the Hyatt Regency Monterey Hotel & Spa. 40 campsites are available at Veterans Memorial Park and the Fremont State Park campsite is open year round. Both locations have accommodations for campers and motorhomes.