Morro Bay is one of the few California snorkeling sites protected from ocean currents. These central coast waters feature kelp and large boulders, which create hiding places for fish, octopus, oysters, and crabs. Rockfish, sea hares, stingrays, perch, and sea otters are common sights. Beyond the breakwater is open ocean, where you might see massive Humpbacks whales migrating from Alaska to Mexico and back. Hang out and watch the show or take a Whale Watching tour. Then, rummage through the beach for sand dollars, or, bring your dog for a romp in the sand. Morro Bay is a great place to relax and rejuvenate, many miles away from freeways and vehicular traffic. There is boat traffic in the bay, so, be sure to ask the locals how to avoid them while enjoying your marine snorkeling adventure.
Morro Rock and Wetlands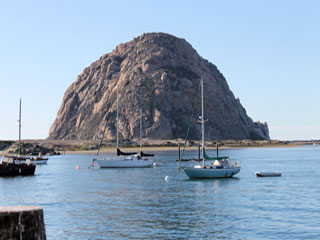 Designated as a Historical Landmark, Morro Rock is sometimes referred to as the Gibraltar of the Pacific, and is a 576-foot high volcanic plug standing at the entrance to the harbor. The rock is a falcon reserve and is off-limits to climbers. A stopover on the Pacific Flyway route, Morro Bay wetlands creates a winter home for migratory birds and for the yearly Morro Bay Winter Bird Festival. Goldfinch, loggerhead shrike, sapsucker, coot, grebe, and wigeon are some of the birds waiting for you to view.
Resorts, Spas, and Camping
In Morro Bay, CA, you can stay at or near the water. Go here for details on Inn At Morro Bay, at the water, Ascot - Inn at the Rock, and Best Western Plus Shore Cliff Lodge. Morro Bay State Park has camping, trailer, and motorhome hook ups. Reserve America will deliver and set up an RV on your campsite for a fee.