The waters off San Francisco are cold and muddy, which doesn't make for good snorkeling, since you won't be able to see the wildlife very well. Plus, the Bay is 50 miles long and from 3 to 13 miles wide, with heavy boat and ship traffic. Another option to consider is Montery Bay, which is 1-1/2 to 2 hours south of San Francisco, depending upon where you stay. If you're hardcore and really want to snorkel San Francisco Bay, you'll need a full websuit.
Photography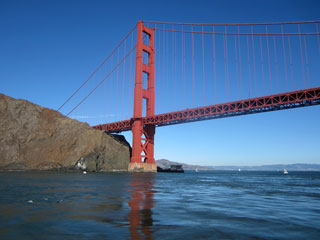 Maybe a photography shoot from a boat will satisfy your thirst for adventure! You'll find marine life of harbor seals, whales, dolphins, sea otters, seals, and sea lions. Plus, birds, reptiles, butterflies, spiders, crabs, and sharks all inhabit the area. San Francisco Bay feeds into San Pablo Bay, Grizzly Bay, and Suisun Bay, which provide more wildlife photo opportunities in protected wildlife refuge areas.
Resorts, Spas, and Camping
San Francisco, CA has top notch accommodations. The Ritz-Carlton, Half Moon Bay, Oceano Hotel and Spa, and Best Western Plus The Tuscan will keep you happy and feeling pampered. There are several campgrounds in the San Francisco Area. Click here to view them on a google map...